There's a whole bunch of new beads in the shop! I put together some fun mixed sets, and a duo, and one single bead listing. If it were realistically possible, I'd list all my beads singularly so that everyone could order exactly as many as they want/need, but every listing costs 20 cents to put out there, so that would be just silly. But, keep in mind that I'm always willing to put out a custom listing for anyone who wants to pick and choose their own quantities. Anyway, I'll shut up now and show you beads.
You have to see the other sides of these ones, too.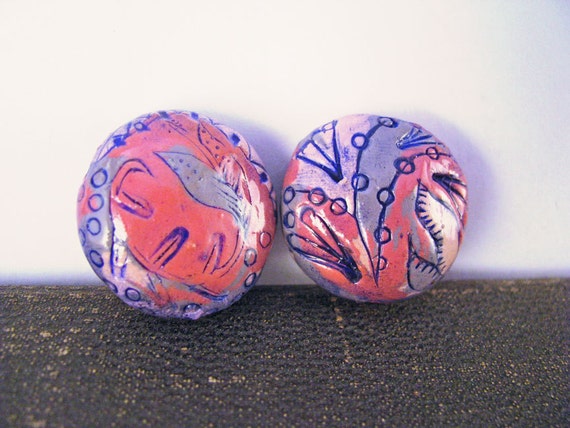 Apparently I only flipped them over one at a time when I was taking pictures of them. The one on the left here is the backside of the one on the right in the first pic, and there's a stupid glare but it's like a bird of paradise flower that curls around and it's really dainty and pretty and I'm proud of it.. You can click through to the listing for other angles.(You have to click the title because Blogger has made it so that it's a pain to link the photo itself.)
I had to change the names of the color palettes because
the original ones don't make much sense without the context of the photos that I named them after.
But we all know that by "retro" I secretly mean "awesome retro photo of girls in lobster costumes".
The doodlebead in this set is perhaps my favorite of all the doodlebeads I've ever made. Except for one from my first batch that I'll never ever part with. You've got to see the back of this one, too.
What does that pattern look like to you? To me, it's fireworks.
My first draft of the listing for this one literally just said "Swirly!"
One more thing.
On the calender (which I posted on the 1st) I said that tomorrow I would announce the challenge/blog hop that I want to host, but that's going to have to wait until the 12th or later. I know you all are just going to be sitting around at 12:01 AM hitting the refresh button over and over dying with anticipation. I'm terribly sorry to disappoint. Either that or you're all busy with the kajillion other challenges going on right now (as am I) and you probably had no idea I was planning one of my own. Either way, I think it's going to be really fun and everyone should join when I do get around to announcing it, which, again, will not be tomorrow, but sometime in the nearish future. Yep.