The
Honey Bijou Hive
is a monthly (month-end) feature here on this blog where I choose 5 polymer clay and/or jewelry artists ("The Hive Five") who've inspired me and share what I love about their work.
For more details about the Hive, see my first post.
March 2012'S HIVE FIVE ARE (In no particular order)…
Note: This month I tried compiling photos on my phone, and some things got messed up (poorly cropped, pixelated, etc.) I apologize to the artists whose work isn't being represented in the best way possible and I urge readers to follow links to see better images of these works.
1. Hope Smitherman/ Crafty Hope
Hope is a Mixed Media jewelry artist and dabbles in all sorts of techniques for creating her own components. She then further mixes it up by using her components in combination with beads made by other artisans. I love checking out her blog because every day she's playing with different materials than the day before, constantly keeping things fresh and experimental.
More CraftyHope at:
Etsy
,
Flickr
, and
her blog
.
2. Marina Rios/ Fanciful Devices
With this artist I'm teetering the line between inspired and obsessed. Upon finding her work I suddenly wanted to change my entire style and the materials I work with. Marina makes amazing found object/altered art/assemblage type jewelry. I can't even identify some of the items in her work, which I think proves her talent at pulling objects out of context and redefining them as jewelry components.
More Fanciful Devices at:
Etsy
and
her blog
.
3. Elsa Mora/ Elsita
Elsa's jewelry is just a fraction of her incredibly detailed body of work. Whether it be polymer, embroidery, paper cutting or paint, all her pieces are stylish, evocative and unique. Her painted polymer pendants are little pieces of precious folksy art on chains.
More Elsa at:
Etsy
,
Flickr
,
her blog
and....kinda everywhere.
4. Camille Young
Generally I don't pay much attention to the more cartoonish things people do with polymer clay because that's a whole other genre in itself, but Camille dances right across the line between genres quite gracefully. She clearly has a strong background in illustration that shows in all she does, and she translates that art form into really fun jewelry.
More Camille at: Her
website
,
store
and
Flickr
.
5. Rocky Antonio/ RockyBeads
I found Rocky through a Polymer Clay Daily post about her Matryoshka Doll lockets, which are just about the cutest things ever. It seems lockets are her thing, since her shop is full of them as well as lots of beautiful sculptural jewelry work and a healthy dose of whimsy.
More Rocky at
Etsy
,
Flickr
, and
her blog
.
As a little gift to our new Hive initiates, we have a badge which you may post on your blogs/websites/wherever if you like. Just copy the code and paste it where you want it.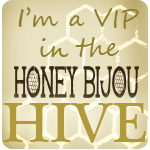 ♥,
Jenna of Honey Bijou