The
Honey Bijou Hive
is a new monthly (month-end) feature here on this blog where I choose 5 polymer clay/jewelry artists ("The Hive Five") who've inspired me and share what I love about their work.
For more details about the Hive, see my first post.
FEBRUARY 2012'S HIVE FIVE ARE (In no particular order)…


1. Mandarin Moon/ Chris Kapono


Jewelry is just a fraction of all the things Chris Kapono does with polymer clay. She also makes ACEOs and covers items with her signature Art Nouveau-esque blend of sculpted swirls, leaves, dots, textures and embedded stones and charms. Each piece of hers is a one-of-a-kind, and it's an impressively prolific body of work.
I have been collecting tins and boxes to clay-cover. I will certainly be looking to Chris' work for inspiration when I do so.
Check out Chris Kapono on
Etsy
,
Deviantart
,
Flickr
,
Twitter
and
her blog.
2. TooAquarius/ Elaine Robitaille
If you're feeling bored with canework, Elaine's work can get you excited about it again. She pairs complementary millefiore designs in her beads, making each like a tiny garden scene, and uses cane slices to create delicate little sculpted flower beads. I'm especially fond of the textured can slices in some recent pendants she's shared on Flickr.
Check out Elaine Robitaille on
her website
,
her Etsy shop for beads
,
her Etsy shop for canes
,
Artfire
,
Facebook
,
Twitter
, and
Flickr
.
3. So Charmed/ Jodi Bloom
Jodi's jewelry designs are edgy, yet charming. She mixes handmade and vintage elements in a masterfully stylish way, blending kitschy, industrial, vintage, and even circus-y themes. There is no shortage of character and cleverness in her shop. She serves as a great reminder to put your own unique personality into your work and likeminded customers will find you.
Check out Jodi Bloom on her
website
,
blog
,
Etsy
, and
Flickr
.
4. SilaStones/ Ponsawan Sila
I learned of Ponsawan through from her tutorial blog,
polymerclaybeads
, as I'm sure many others have as well. It wasn't until later finding her on Flickr that I realized she was up to much more than creating great bead tutorials. Her finished jewelry is amazing. She incorporates really fun wirework in with her polyclay creations. She's also a rather inventive polymer artist; she's made her own modifications for her pasta machine, invented her own version of the skinner blend, and made texturing tools into an art in itself.
Check out Ponsawan Sila on
Etsy
,
Flickr
, and
her blog
.
5. Celine Charuau/ Gris Bleu
Celine's polymer and metal work is so clean and precise that it's hard to believe it's handmade. She uses bold colors, sleek shapes, and complicated engineering (or so it seems) in a collection of work inspired by sea and plant life. Celine is French, so I've never been able to discuss her methods with her, which makes her bio-mechanical-looking work all the more mysterious.
Check out Celine Charuau on
Flickr
and
her blog
.
As a little gift to our new Hive initiates, we have a badge which you may post on your blogs/websites/wherever if you like. Just copy the code and paste it where you want it.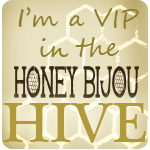 ♥,
Jenna of Honey Bijou