The
Honey Bijou Hive
is a new monthly (month-end) feature here on this blog where I choose 5 polymer clay/jewelry artists ("The Hive Five") who've inspired me and share what I love about their work.

(Note: In the future, Kim, my shop-mate, may participate in writing one of these features. However, she's been in behind-the-scenes mode for a long time with her demanding job and a move underway and I'm starting to feel creepy about saying "we" all the time, when I'm really only referencing myself. So I'm using "I" for this post, but I don't want to give the impression that Honey Bijou is only me. )
I feel it's important to mention that inspiration can come from a zillion places at once, and the 60 artists I'll mention here this year is just a tiny fraction of all the wonderful creative people who keep me jazzed about makin' stuff. However, there's only so much time in a day/week/month, so I'm keeping it down to 5 a month- the top 5 who keep popping up in my thoughts as I'm working and experimenting.
JANUARY 2012'S HIVE FIVE ARE (In no particular order)…
1. Rebecca Watkins/ ArtyBecca
Rebecca seems to have found the perfect midpoint between the often conflicting desires to make things polished and perfect, yet keep the freeform charm of handmade goods. I've been following her work on flickr and etsy for a couple years, and have found that although she is constantly experimenting and inventing, there is a strong sense of her unique style that shows through in all that she does. An artybecca bead is always recognizable at a glance.
My beloved Doodlebeads are largely inspired by Rebecca's etched beads, and her organic stripe technique is my new favorite for creating a quick and lovely pattern.
Check out Rebecca Watkins on
Etsy
,
Flickr
, and
her blog
.
2. Claire Maunsell/ stillpointworks
Claire's polymer clay creations all look like they've been touched by Mother Nature and Father Time. Organic forms, tons of crackly, scratchy, delicious texture, and beautiful jewel tones juxtaposed against rich black antiquing. She's another artist with a very strong personal style.
Check out Claire Maunsell on
Etsy
,
Zibbet
,
Flickr
,
Facebook
, and
her blog
.
3. Christine Damm/ Stories They Tell
"Stories They Tell" is such a great name. It highlights a wonderful aspect of handmade goods- that even before an item has reached it's intended owner, it has a story. It's been imagined, designed, contemplated, created, held, and admired.
Christine's polymer work is full of lively shapes and exuberant character. She sells her beads and components on their own for others to create with, but I'm particularly fond of her finished jewelry. I look to her work for ideas when I find myself stuck with a pile of beautiful beads and no idea what to do with them.
Check out Christine Damm at
Etsy
,
Flickr
, and
her blog.
4. Rebekah Payne/ Tree Wings Studio
Rebekah's work is a newer discovery, but it only takes a second to fall in love with her beads. Her sleepy woodland creatures are so precious! The over-all feel of her website and shop is like walking into the pages of a charming storybook.
My bunny beads are directly inspired by Rebekah's critters.
Check out Rebekah Payne on
Etsy
,
Flickr
, and
her blog
.
5. Veronique Hoffman/ FimoMaus
Veronique is a prolific polymer artist. She seems to really have her finger on the pulse of the polymer clay community on flickr, and is always the first to lend kind words on new work. I love that she is constantly, and fearlessly experimenting with new styles and techniques.
How cool is her recent collection of pieces made to match an article of clothing? It makes me realize I've got a whole closet full of untapped inspiration!
Check out Veronique Hoffman on
Flickr.
As a little gift to our first Hive initiates, we have a little badge which you may post on your blogs/websites/wherever if you like. Just copy the code and paste it where you want it.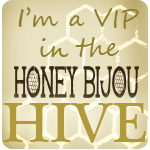 ♥,
Jenna of Honey Bijou